It's not just sleepwear. It's smilewear
FREE Shipping to EU, UK, USA, RUS. Standard Shipping Worldwide.
100% organic cotton.
Buy Now
Characterful Sustainable
We do Pyjamas differently. It's not just sleepwear, it's Smile-wear
SHOP NOW

Whether you are a fun loving spirit or serious about yourself and the planet, or both, there's a set of Happy Pijama for you. Made of 100% organic cotton, modern unisex fit, no itchy labels inside, all in a fun giftbox. You will wonder how you ever spent weekends without them.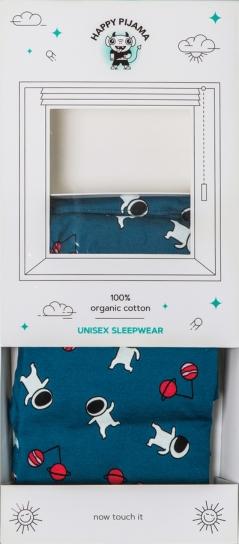 Modern fit for both, him and her

100% Organic cotton for soft and healthy feel

Designs with joy and charachter

Flat stitches for comfort

No itchy labels inside

All about us
Happy Pijama is all about escaping your professional life and releasing your inner child or demon by expressing your childish, naughty side at home. As such, the aim of the brand's products is intended to add happiness and joy.
Read more
People say
"Just got our first Happy Pijama sets, very nice and soft, no labels or hard stitches inside, 100% organic cotton, cute and comfortable, great service and very fast delivery, totally recommend, great new brand."
Mai Van Derven Hammad, Netherlands
"I love my pijamas and thanks for the fast delivery! Products are so soft and easy to wash."
Sarah, Birmingham
"I ordered 2 matching Sleepy Cats PJs sets for our wedding anniversary. Box was such a fun surprise!!! We are really loved it! Quality is fantastic too. Happy :)"
Peter, Antwerpen
Brining Sustainable and Healthy Fashion is our Goal
Here I am sharing the latest news about our brand development, about inspirations and of course about our values and goal to promote sustainable fashion and make happy not only us but also our planet.
It was my conscious choice to make our loungewear in the most sustainable way possible. Starting from organic cotton, use of the latest technologies making prints on the textile and finishing our famous fun box.
There are two reasons of this choice. First of all, I feel personal responsibility to make less harm to our planet and maybe even to improve it by spreading culture of responsible consumption. And secondly, thanks to the way organic cotton produced and to the printing technology used, we get very breathable and much healthier material. If you think about healthy food, why not to think about what your skin is wearing too?
Read more
Read more